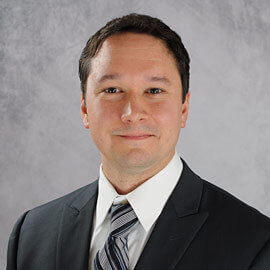 Brian Pasek – Chief Operating Officer
Brian Pasek first discovered his interest in the construction field after high school by working as a laborer in several trades building custom homes in Telluride, Colorado. He would then go on to earn his Bachelor of Science in Construction Management with Minors in Mathematics and Physics from Eastern Michigan University. Since his introduction to the trade, Brian has worked and participated in many aspects of the industry, from Field Work and Supervision to Project Management and Estimating. At Spectrum, Brian held a leading role with the Estimating team as a Senior Estimator and has now entered a new role as the Chief Operating Officer. His background in the industry has provided Spectrum with valuable knowledge and experience.
Brian met his wife Lauren while attending Eastern Michigan University. They have resided in Ashburn, Virginia since moving to the state in 2006. Both Lauren and Brian have an affinity for musical performance and continue this interest by volunteering in the music programs at local churches and schools.